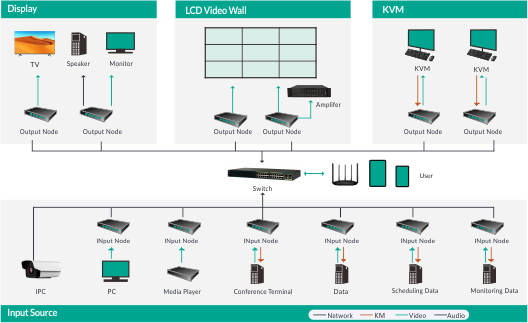 BRNet widely used in command and control centers, emergency dispatch centers, large conference rooms, radio and television media control centers, integrated media exhibition centers, exhibition halls, and demonstration centers etc., It covers the functions of the matrix system, central control system, splicing system, video conference system, KVM system, and IP surveillance system, aims to solve the four core problems in audio and video applications: transmission, exchange, processing and management.
BRNet adopts a purely distributed architecture, multiple signal sources, multiple display terminals with good scalability. Videos can be switched through the switcher to connect to the network equipment, and realize multi-screen splicing, split-screen display, KVM seat management, audio transmission and many other functions.
BRNet innovatively visualizes the control of the video and audio environment, allowing users to achieve what they see is what they get, which greatly reduces the user's misoperation rate and improves the usability and reliability of the system.